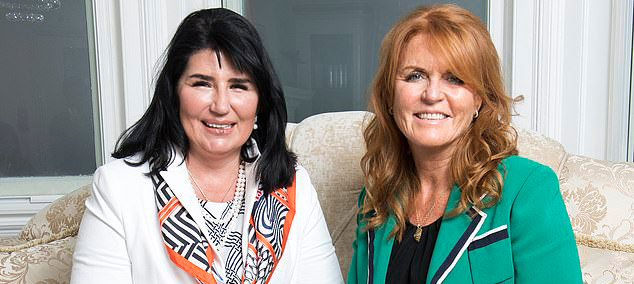 Article by By FRANCES HARDY FOR THE DAILY MAIL
Duchess of York confessed to the work less than a week before 60th birthday
Speaking to FEMAIL, the royal revealed the procedures in glorious detail
Former wife of Prince Andrew, Duke of York, has impressively few grey hairs
---
Read full article here: https://www.dailymail.co.uk/femail/article-7555643/Duchess-York-finally-confesses-cosmetic-tweaks-years-gloriously-candid-detail.html
Don't you get a bit sick of celebrities who look ten years younger than they did a decade ago, protesting that they've had 'nothing done' and insisting their youthfulness is all down to yoga and sunblock?
And isn't it refreshing when someone fesses up and admits: I've had a couple of procedures, a helping hand; it's not all thanks to good genes and abstemious living? So, hurrah for Sarah, Duchess of York who today, less than a week away from her 60th birthday, gives us an honest insight into the help she's had in holding back the clock. The Duchess has fair skin, impressively few grey hairs and is prone to wrinkles, but looked surprisingly well at her daughter Princess Eugenie's wedding to Jack Brooksbank last year.
Was it just maternal pride that made her skin glow as she walked up the steps at St George's Chapel, Windsor, for her younger daughter's big day? Or was there a bit of something else, besides?
Both says Sarah. Speaking exclusively to the Mail, she confesses: 'The happiness was shining out of me because my daughter was getting married. I was so glad. I love Jack. When I'm passionate about anything, my eyes shine.
'Above all, it was being joyful for Eugenie that made me look good. But I'd had some laser treatment on my face which helped, too.'
The laser treatment comes with extraordinary claims. It purports to be everything we'd wish from a cosmetic pro-cedure: pain-free, non-invasive, with no recovery time and accomplished in no more than 90 minutes.
The woman behind the Duchess's treatment is Polish-born Dr Gabriela Mercik, who at her Harley Street clinic, has just launched what she calls the world's first 6-Dimension Ultimate Laser Treatment facelift.
What does 6-Dimension mean? 'We wanted a unique name to show we're pioneering things,' says Dr Gabriela's son Greg, 29, an IT graduate, who's trained to carry out non-invasive procedures. 'People have heard of 3D glasses — we wanted to go a step beyond that.'
Read full article here: https://www.dailymail.co.uk/femail/article-7555643/Duchess-York-finally-confesses-cosmetic-tweaks-years-gloriously-candid-detail.html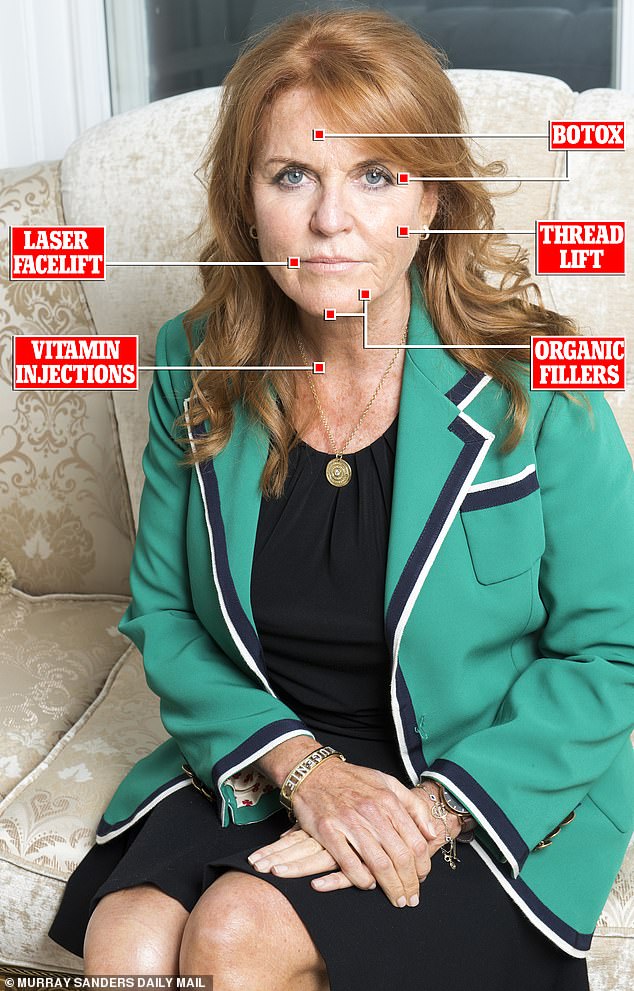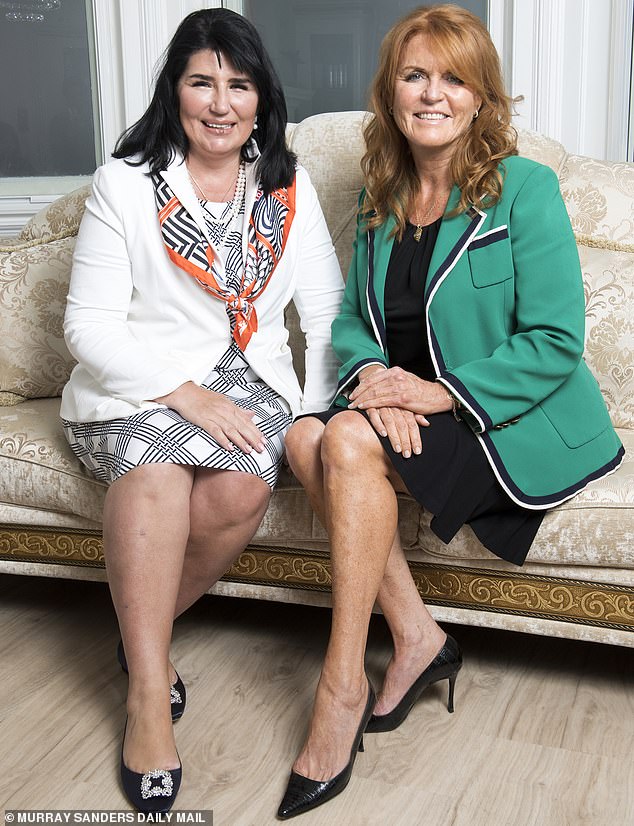 ---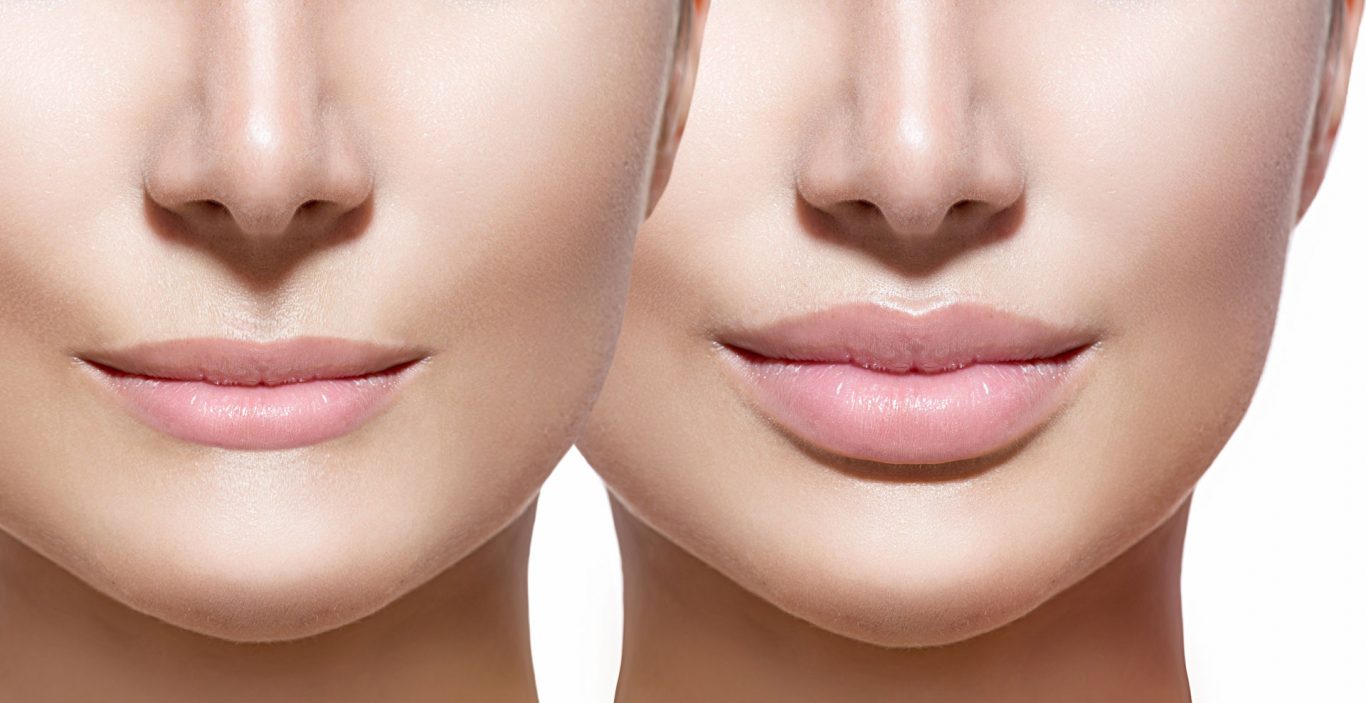 February has long been celebrated as THE month of romance and there is no better time to overhaul your look and treat yourself to plump kissable lips.
Better yet, you can now do so needle and pain free with Dr Gabriela's innovative, bespoke laser lip treatment plan. Yes – you read that right! NO needles, NO pain and NO recovery time! Whether you've got a hot date planned or are single and looking, you too can prime your lips for the festival of love without an injectable in sight.
Dr Gabriela reveals, "We can all lose plumpness in our lips through genetics, lifestyle and just the natural fact of growing older, as the collagen in the area depletes over time, but it is so easy to reverse the years and plump up the volume".
She adds, "According to published research, 7% of UK individuals polled are thought to be interested in changing the shape of their lips, but for many, the idea of fillers is too extreme to consider. My bespoke treatment plan provides an option that doesn't require injectables, but still gives outstanding results".
Dr Gabriela's treatment hydrates, smooths and plumps out the lips using the power of the laser to boost your own natural collagen production. This helps not only to reduce lines and wrinkles but to tighten and volumise your pout giving you luscious lips that will last well into the warmer months and give you a pout to rival Cupids.
So, whether you are wishing to make a romantic impression or simply showing the love to yourself; you can express your inner, and outer beauty, with more kissable lips using this specialist laser technology to restore the fullness of youth.
Please get in touch for more details about Dr Gabriela.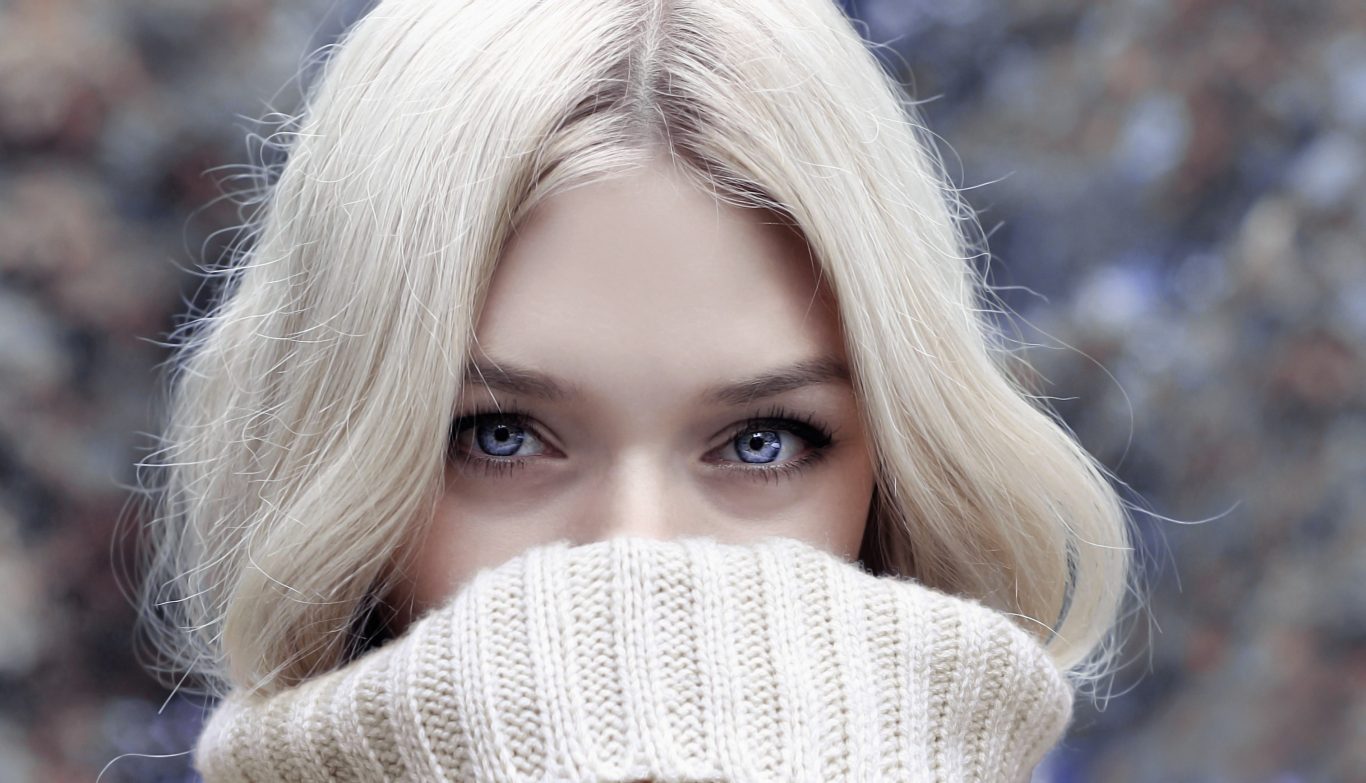 It can't have escaped your attention that with every new year comes the huge slew of social media posts, blogs and magazine articles surrounding a 'New Year, New Lifestyle', and while most people are choosing to protect their liver (dry January), heart (healthier diet), or mind (stress relief), one major organ is going largely ignored, at perhaps one of the most damaging times it faces.
With our skin being our largest organ (the average adult is thought to have around 3.6kg/2m2 of it), its aesthetic appearance is not the only thing we should be trying to protect. This largest of organs insulates us, keeps us from absorbing water, and guards us against sunlight, chemicals and extremes of temperature, as well as preventing some infections and generating vitamin D (which also helps our bones). It really is a true body hero, and we should be doing all we can not only to keep it looking good but feeling good also.
Winter woes
If your skin isn't feeling great this winter, then you're not alone. Xerosis, which is the scientific term for dry skin, is far more common in winter. Dry, itchy, angry-looking skin affects many of us in the winter, and yet we cover it up with products that can do even more damage, or pull our long jumpers, skirts, tights or jeans over the top, giving skin less room to breathe, and us less time to notice or correct the damage that's being done. And, it can take months for our skin to recover from this poor treatment.
New Year, New, rejuvenated skin
So, what can we do to treat our skin with the respect it deserves, as one of the most important organs in our body? If we had a heart problem, we would be quick to seek treatment, as we would with any other organ, which is why Dr. Gabriela, a highly-experienced Harley Street skin guru, has developed treatment plans that serve to right these 'winter wrongs' and lead our skin into a brighter, suppler, happier new year.
We all know that drinking plenty of water and observing a healthy diet can work well to prime our skin, but the treatment plans developed by Dr. Gabriela have been specifically designed to promote skin regeneration and rejuvenation. Not only that, but the treatments she recommends aren't injectables, so the needle-phobic need not look away! Here, we take a look at just a few options on offer to give this major organ some much needed TLC this year.
Laser therapies
You may think the use of lasers is limited to hair removal, but there are many applications within the skin that make using this type of treatment beneficial. Superficial laser peels can remove damaged cells, and stimulate the collagen within the body, leading to speedily rejuvenated skin. Not only does this have an anti-aging effect, as it reduces fine lines and tiny wrinkles, but it can also improve the condition of the skin. Better still, this treatment can be targeted at the most damaged areas and will not damage the healthy skin surrounding them.
Another innovative application for laser therapy is on a part of the skin often subject to most damage by the winter weather – the lips. Laser lip plumping not only gives an anti-aging enhancement to the look of the lips, but also reduces wrinkles, and boosts natural collagen production without the need for injections – giving lip health benefits without invasive treatment.
LED and oxygen treatments
If laser therapy isn't something you're considering, then there are plenty of equally as high-tech alternative therapies on offer. One in particular uses Oxygen as part of the process to boost the vitality of this often-neglected organ. The 3D facial, using LED technology along with molecular water combined with oxygen therapy revives dull skin, can give a boost to cell turnover and gives a revitalised look and feel – again, all without a needle in sight. Now preferred by many an A-list star, oxygen therapy is becoming more popular due to the quick and effective results it brings, without requiring time 'out of the spotlight' for healing.
It's not all about the face
While the skin on our face is usually more noticeable, especially at this time of year, having bodily skin problems corrected now can ensure we're ready to bare a little more once the warmer months are upon us. Full body treatments such as nanopeptides mesotherapy gives the skin tiny micro doses of enzymes, amino acids, minerals, vitamins and antioxidants, restoring more youthful skin. Essentially, this treatment stimulates our own bodies to restore the health of our skin, an approach which forms the cornerstone of many of Dr Gabriela's innovative treatment programmes.
Love your skin long-term
Of course, no matter how well these treatments work, looking after our skin should be something we attend to every day. After all, we watch what we eat and drink, so a well-thought out skincare routine should certainly be on our 'to-do' list; not only in winter but all year round.
With this in mind, Dr. Gabriela has produced a range of award-winning products that treat skin daily, as well as targeting specific skin problems that plague many of us. Whether it is anti-aging mist, hydrating cream that works on a molecular level, or a vitamin booster, getting the right skincare regime is certainly the best gift we can give to our skin, either in conjunction with, or in addition to the other treatments mentioned above.
With many new year's resolutions becoming unfulfilled by February, why not make 2019 the year you make your skin a priority? The benefits could last you well into next year and beyond…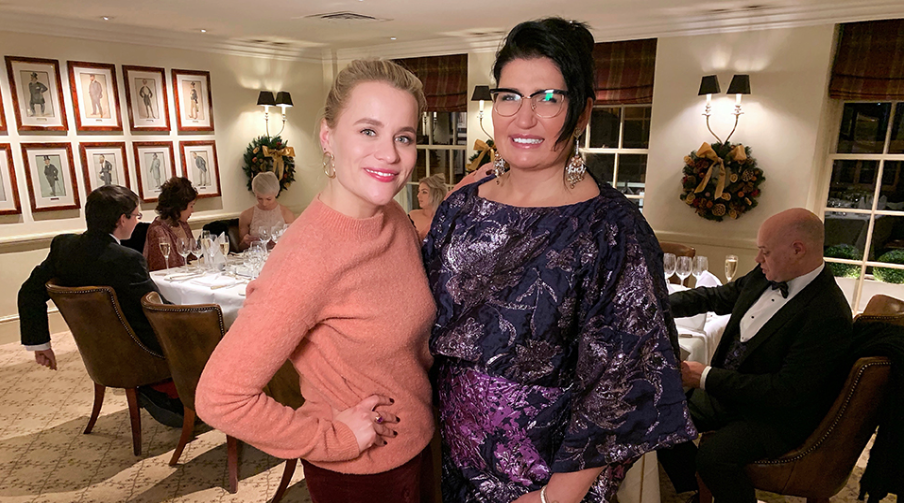 The Polish media were so impressed with Dr Gabriela Mercik the first time, they travelled down to the famous 56 Harley Street in London to interview her again and know more about her amazing life and work. She is a pioneering doctor, trainer, speaker and author who has not only brought breakthrough treatments into the UK, but broken through international media with her life-changing products and treatments that help people feel beautifully confident in their own skin. No wonder everyone wants to get more of her magic!
Dr Gabriela Mercik performing the 6D Platinum Laser Lift
Dr Gabriela shines and dazzles on the Polish morning show Dozier Dobry TVN with her extensive knowledge, experience and expertise on aesthetic medicine. They get to know her inside her own exquisite Dr. Gabriela Clinic on 56 Harley Street and find that she has the world at her feet with an elite global VIP clientele who hold her dear, including Duchess of York, Sarah Ferguson.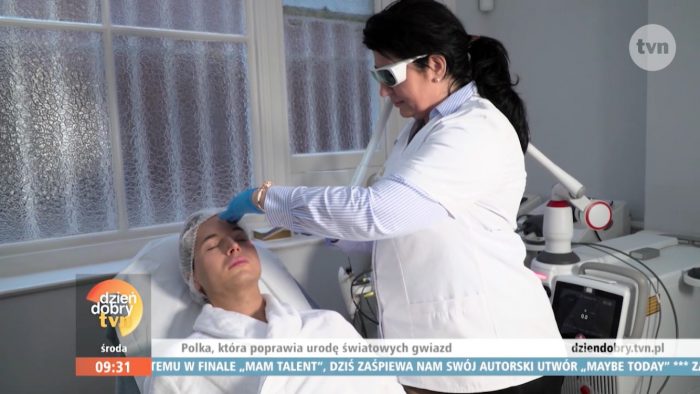 The show then follows Dr Gabriela's glamorous team and dedicated family to their annual Christmas dinner. It's all Hollywood glam and team spirit with every member standing strongly beside her to support her life-long dream of touching people's lives.
They learn about her pioneering non-invasive treatments to lift, tighten and refresh your look without needles or knives, as well as her multiple award-winning Dr. Gabriela Skincare luxury line that has been selling out like mad this Christmas! They get a first-hand look at the treatments and hear the patients talk about their Dr. Gabriela Clinic experience and what makes it so unique. Office Manager, Priya Randev also sheds some light on why she loves working for Dr Gabriela.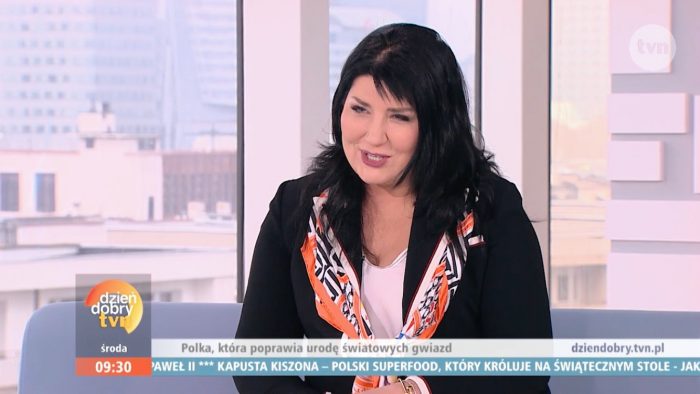 Watch the full show here and get behind the magic:
Polka, która dba o urodę hollywoodzkich gwiazd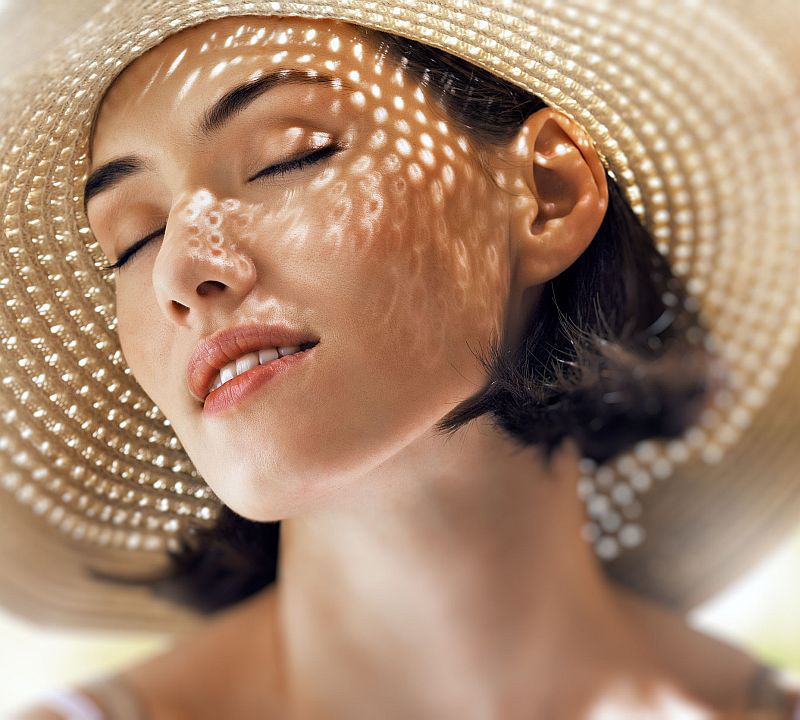 Using face wipes is officially one of the biggest skin sins you can commit.
Face wipes have been beloved the world over by many a woman who craves ease of use, something they can whip across their face and feel they have done some good with. We understand what it is that people love about wipes – they're minimum effort and portable. You can keep them on your bedside so you don't have to even get out of bed to "remove your makeup" (more on the need for inverted commas later on).
However, face wipes are not skincare. To have a mode of comparison, face wipes are to skincare as fast food is to a healthy, well-balanced meal. Wipes can often do much more harm than good for the following reasons:
They do not remove makeup fully!
As a no-rinse technique, makeup or face wipes leave you with a film of the oils, makeup and debris that were on your face and it will sit there all night long. All. Night. Long. This film combines with the ingredients of the wipes which are often known skin irritants.
They contain drying alcohols and sensitising fragrances
In terms of ingredients, it isn't completely fair to paint them all with the same brush. However, many wipes are packed full of drying alcohols (listed as alcohol denat., denatured alcohol, SD alcohol) as well as high amounts of sensitising fragrances (often listed as parfum or perfume). These ingredients can strip the skin of its barrier function. The skin is an organ and as an organ, it protects itself using its barrier which is made up of the dead skin cells and lipids (oils) on the surface of the epidermis.
It doesn't sound the most appetising but this barrier is your skin's raincoat, shielding it from the elements. It additionally serves the purpose of preventing TEWL or trans-epidermal water loss. TEWL is the term used to explain the loss of moisture contained in the epidermis. Your skin's barrier is like a Tupperware lid, ensuring that none of the good stuff spills out whilst keeping baddies on the outside.
Drying alcohols can strip your skin of the oils that help to make up the skin's barrier. This means that you are more susceptible to irritation from other ingredients, your skin may feel dehydrated, dry or tight and you may experience more breakouts as your skin will overproduce oil to make up for the lack of it. Your skin will also age faster as a result and you will immediately have "drinkles" aka dehydrated wrinkles, fine lines that occur when the skin is dehydrated. Think of a raisin versus a grape. We all want to be the juicy, line-free grape.
Even if you just use wipes for eye makeup, this ain't good – your eyes are MORE sensitive than your skin, as is the delicate under eye area.
They do little to nothing when it comes to pollution
Air pollution is becoming increasingly more of a worry in the skindustry. We're only learning about the effects that airborne pollutants can have on our skin now. Removing the physical debris left from pollution may be beneficial towards helping your skin to escape its effects and as wipes can't "lift" anything from the skin, they aren't a weapon in that battle.
So the next time you feel too tired to remove your makeup, after a long heavy, consider how much effort will go into fixing your skincare from the damage 'easy' wipes have done to your skin.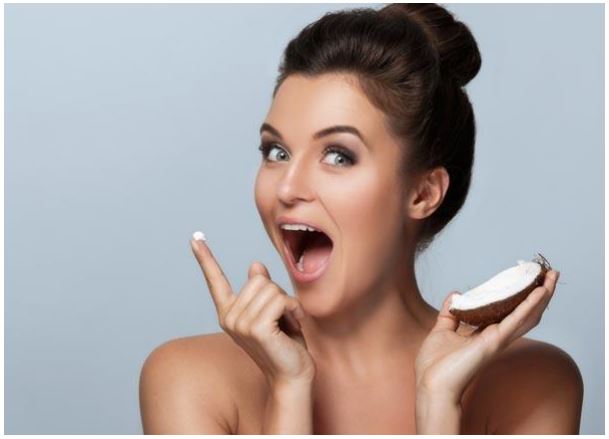 While there are a heap of different skin care products out there that promise to reduce breakouts, smooth fine lines and create glowing skin, sometimes you've got to bring it back to basics. Some of the best skin supporters are simple daily habits that can help you get back on track to good skin.
From no-brainer rules to nifty little tricks, here are some of the top daily habits that might just give you that clear, glowing skin you've been wanting forever.
Don't pick your skin
It may seem obvious, but it's a hard habit to break. Don't pick your skin and don't squeeze your spots.
This can not only make your breakouts worse as it is pretty much spreading the infection, but it can also result in permanent pigmented scarring.
When you squeeze a pimple, you can inadvertently force all the debris from the pore deeper into the follicle. That can cause the follicle wall to rupture, spilling all the infected material into the dermis (the lower layer of skin).
Don't be fooled into thinking your skin is OK if you are able to coax pus and debris from the pore opening. You can still be pushing infected material deeper into the dermis below even while pus is being extracted from the pore.
That settles it then – hands away from your face!
Change your pillowcases regularly
How often do you change your pillowcase? You may not be doing it as often as you should – and it could be one of the easiest solutions to prevent acne and breakouts. This also goes for makeup brushes and towels, Changing pillow cases frequently and washing them often play a big part in keeping skin clearer.
For those who don't have time to put a load on more than once a weekend or don't have a billion pillowcases to switch out, another user offered this magical little tip, "
Switching your usual laundry detergent to a fragrance-free alternative, especially if you have sensitive skin, is helpful to avoid irritation.
Simplify your skin care routine
Sometimes less is more and many skincare addicts make the observation that by simplifying their skin care routine, skin tends to appear clearer and healthier. For example, realising that even oily skin needs regular moisturizing, and adding fewer and fewer products to avoid irritating the skin's delicate moisture barrie.
The key is to find skin care products that work together to simplify your routine. Sometimes you can end up using too many products that aren't actually suited to your specific skin type, causing more harm than good.
Drink more water
We know you've heard it a million times over, but that's because it's important. Drinking at least eight glasses of water a day will help flush out toxins from the body and the skin – it's hands-down one of the best ways to up your glow game. Without enough water, your skin becomes dry, flaky and prone to breakouts, acne and wrinkles – which is just not a good time.
Plain water is not the only thing that contributes to fluid balance. "Tap, bottled, fizzy, hot and cold water, herbal teas, fruit juice, skimmed/semi skimmed milk all count," says Bond. "While all fluids add to your daily fluid total, opting for water or herbal teas means that you're not adding sugar or calories to your diet, while maintaining good levels of hydration."
Remember that many foods are also loaded with water. "Especially water-rich fruits and vegetables – veggies in particular are an excellent choice because not only do they flood the body with nutrients but they are low glycemic, so help to avoid blood sugar imbalances," the nutritionist explains.
Dr Hextall recommends adding lemon to hot water as a morning drink, "which has great digestion advantages [which can also benefit skin], but dentists have muted concerns about the acidity and its effect on teeth, so it's best to use a straw to bypass the teeth". She says herbal teas, and particularly green tea, "are an excellent alternative to water as the antioxidants will definitely boost the skin".
Wipe your phone screen
Cell phones are magnets for build-up and bacteria, which means throughout the day, makeup, facial oils, and environmental toxins accumulate on our screens.
With each phone call, we reintroduce these germs onto our skin, clogging our pores and leading to eventual breakouts.
Furthermore, when you place your phone on your face to make a call, your skin is not only in direct contact with said bacteria, but it also traps oil in the pores. The pressure of the phone on your skin alone can create blemishes. So, wipe that screen on the regular or opt for bluetooth headphone!
Beware of hair products
Hair products can cause breakouts anywhere, but especially on your hairline, neck, and back. That's right: Many of the ingredients your hair needs and loves aren't so great for your skin, and can often lead to irritation and acne.
There are a host of ingredients that are risky for people with acne-prone skin, and many more that are a risk to anyone, regardless of their skin type.
Many hair products are oil based, which may trigger acne in those who are already prone, but ingredients such as petroleum, silicone, cocoa butter, sodium lauryl sulfate, ammonium lauryl sulfate, mineral oil, jojoba oil, coconut oil, and lanolin can also trigger acne, especially if left on the skin. Many hairsprays are also alcohol-based and can trigger breakouts if accidentally sprayed onto nearby skin.
At the end of the day, what's good for your skin isn't always good for your face so keep the two separate. Choose hair products with good ingredients, and do what you need to keep your hair product from transferring to your skin.
That way, you can have beautiful hair without sacrificing your beautiful skin.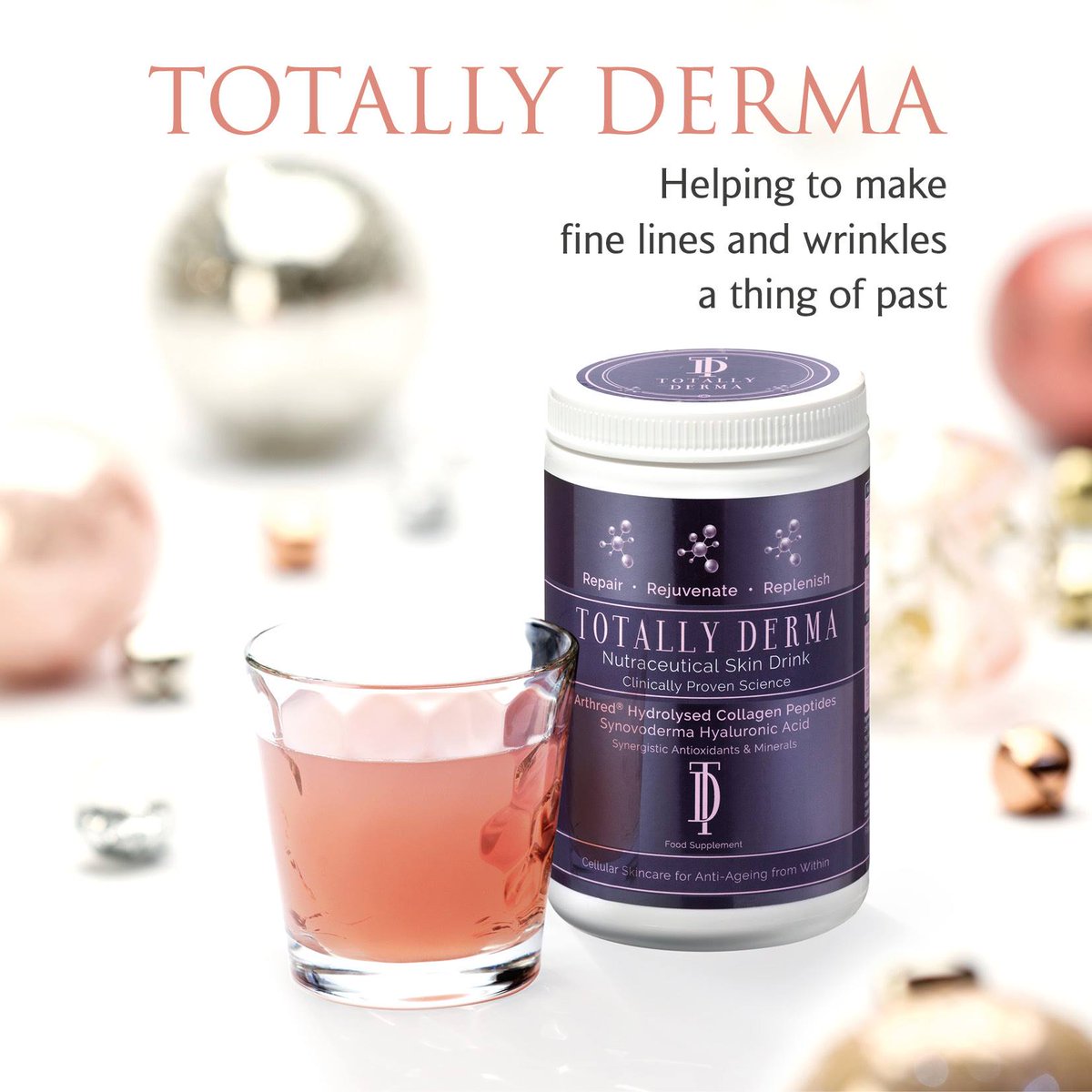 Here at Dr Gabriela Clinic, we've heard you are what you eat, and taken it one step further by partnering with Totally Derma whose latest offering is taking the beauty world by storm one delicious glass at a time.
What is Totally Derma?
Totally Derma is a scientifically researched, evidence-based collagen drink that can fit into the modern woman's busy lifestyle, without compromising results. It's packed with highly beneficial antioxidants and minerals, along other skin-lovin' extras such as Hyaluronic Acid (a big favourite of Dr Gabriela!) and Zinc. It works alongside your existing skincare routine to supercharge your skincare and take it to the next level.
It's scientifically proven to increase the skin's:
Hydration
Volume
Firmness
Density
Elasticity
The end result? Skin that feels and looks soft, supple and radiant. The benefits don't just end there, however. Collagen is more than just a superficial 'beauty' protein. It is a vital building block in the human body, and increased levels of collagen translates to increased flexibility and mobility. Inflammation is greatly reduced, gut health is improved and it provides the body with a much more robust defence mechanism against free radicals. With consistent use of Totally Derma, in addition to a healthy lifestyle, you can achieve the radiant skin, hair and nails other products have always promised you!
Additionally, it's also a very useful supplement for post-menopausal women.
What is all the fuss about collagen?
Collagen is an incredibly important protein that keeps your tissues and bones together. Specifically for your skin, collagen helps give your skin structure and elasticity, or that famous "bounce."
Collagen is an abundant protein in mammals. It accounts for about 30% of the protein in the human body. It is found in fibrous tissues, such as the ligaments and tendons, as well as skin. The protein is also in the bones, the corneas, the stomach, and the blood vessels. Essentially, collagen strengthens blood vessels and provides skin with elasticity.
When collagen breaks down as people age, wrinkles and other skin issues tend to emerge. Furthermore, in many cases, weight loss after your 30s can compound the issue even further.
How can I fit into my routine?
It's incredibly easy to incorporate Totally Derma into your existing routine. Just add it once daily to a 250ml glass of water or add it to your favourite green smoothie if you want to be extra healthy! Unlike unpleasant tablets that can leave you gagging, Totally Derma comes in a range of natural flavours — all free from preservatives, additives and allergens — and are designed to go down a treat!
We recommend taking the supplements for a minimum of 3 months but many of our customers see a marked improvement in as little as 3 weeks!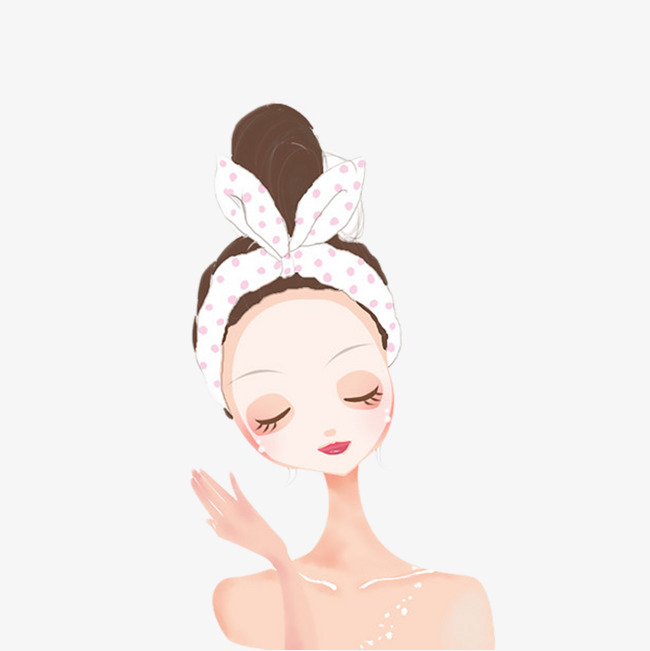 Great skin is not simply a matter of DNA — your daily habits, in fact, have a big impact on what you see in the mirror. But depending on which product reviews you read or doctors you consult, there is a dizzying number of opinions on everything from how to moisturize to how to protect yourself from UV rays. Ultimately, caring for your skin is simply personal. Here's what you should keep in mind to sort through all the noise.
THREE MAIN STEPS
Think of your skin-care routine as consisting of three main steps:
Cleansing — Washing your face.
Toning — Balancing the skin.
Moisturising — Hydrating and softening the skin.
The goal of any skin-care routine is to tune up your complexion so it's functioning at its best, and also troubleshoot or target any areas you want to work on. "Beauty routines are an opportunity to notice changes within yourself," says Dr Gabriela Mercik. As your skin needs shifts with age, so will your products. Still, she adds, "it's not about creating perfection." Allow these three steps to become your daily ritual that fortifies your skin and grounds your day.
The science behind skin-care products has come a long way but there's still no such thing as an instant fix — you need time to reap the benefits, says Dr. Gabriela. "Results are only seen through consistent use," she explains. Generally, aim to use a product over at least six weeks, once or twice daily, to notice a difference.
Tip: With any skin-care product, apply in order of consistency — from thinnest to thickest. For example, cleanser, toner, serum, and then moisturiser.
Washing your face is the most basic and essential step of any routine. "Our skin comes in contact with environmental pollutants, dirt and other factors each day that should be gently removed." Wash twice a day, morning and night, to avoid clogged pores, dullness and acne.
FIND YOUR PERFECT FACIAL CLEANSER
The right formula cleanses your skin without stripping essential, healthy oils. Take it easy with exfoliating scrubs (use once a week) and avoid those with crushed walnut shells or abrasive ingredients. If a product claims to be non-comedogenic it means that it shouldn't clog pores or trigger acne — either by occluding the skin, blocking glands or irritating the hair follicle.
The claim is not regulated by the F.D.A., however, and many companies do their own internal tests to determine whether a product should be considered comedogenic or not. (Some common known comedogenic ingredients are coconut oil and cocoa butter.) Typically, the fewer ingredients a product has, the easier it is to determine if it will cause any reactions.
HOW TO USE TONER
For many, the word "toner" brings to mind stinging astringents from the '80s. "The original was an alcohol-based product that was used to dry up oily skin and remove any leftover dirt following cleansing," Dr. Gabriela says. Today's formulas, however, have evolved.
Think of them as supplements — these thin liquids deliver an extra shot of nutrients, helping the other products in your regimen absorb better, while still balancing your complexion. "It can be a good way to add in specific ingredients that you may not have in your other products or add another layer of skin-replenishment." If you have the time and inclination, here are some hero ingredients to look for:
Alpha and beta hydroxy acids to gently remove dead skin cells that can clog pores, improve sun-damaged skin and minimize dullness.
Hyaluronic acid to boost hydration, seal in dewiness and plump skin to subtly treat fine lines.
Rose water and green tea to calm irritation and reduce redness with an anti-inflammatory effect.
Vitamin E and C to fight daily exposure to free radicals that can age your skin.
MOISTURE: THE MOST ESSENTIAL PART OF ANY ROUTINE
The most basic function of a moisturizer is to hydrate and soften the skin. "Essentially, moisturizers assist in preventing water loss through the outer layers of skin," Dr. Gabriela explains. "They can also complement the naturally found protective oils and other building blocks within the skin, such as ceramides." This is one product that doctors recommend using year-round, for all skin types. "Skin naturally loses the ability to retain moisture as we age," Dr. Gabriela insists, "and daily activities, such as washing, can strip natural hydrators from the surface."
THE DIFFERENCE BETWEEN A DAY AND NIGHT CREAM
Creams you apply in the morning are equipped to protect your skin from the environmental aggressors you'll face when you leave the house—many contain antioxidants to minimize pollution-based free radicals and sunscreen to shield you from ultraviolet radiation.
They typically have a lightweight consistency. Night creams, on the other hand, focus on repairing any damage you might have picked up with ingredients like retinol to speed cellular turnover and counteract dark spots. These creams also replenish moisture levels, which naturally dip in the evening, with emollients that often create a rich, thick texture.
EYE CREAMS, EXPLAINED
Can you survive without an eye cream? Absolutely. But, if you have specific concerns — like hyperpigmentation, dryness or puffiness — you might want to try one. "The skin around the eyes is quite thin and delicate, and more likely to react to irritating ingredients than other areas," Dr. Gabriela says. "Therefore, dermatologists typically recommend an eye cream that considers the potential sensitivity and has more tolerable concentrations of active ingredients."
For undereye bags and inflammation, caffeine, peptides and hyaluronic acid can be soothing, Dr Gabriela says. "Dark circles can be due to visible veins or actual discoloration common in darker skin tones," she says. "Look for brightening ingredients like vitamin C, kojic acid and niacinamide." Insider tip: Steer clear of strong retinols (which can sting and create redness) and fragrance, to avoid any eye irritation.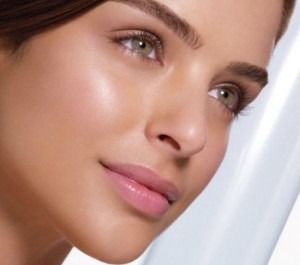 You've likely heard of how Korean Skincare is taking over the world, from sheet masks to 10-step nightly routines, Korean women are known for their flawless complexions and a "skincare over makeup" mentality. In this article, you'll learn about why 'double cleansing' is a non-negotiable in a Korean skincare routine and why it should be in ours too.
A double cleanse is much more effective in removing makeup than single step cleansing and "can assist solving problems like blackheads as it works to peel off old and dead skin cells, meaning skin tone improves," and you are left with a brighter and clearer complexion.
So how exactly do you double cleanse? According to Valentina, our beauty therapist and skincare enthusiast, it is dependent on the amount of makeup you are wearing.
"If your makeup is light, use cleansing water for the first step and then use a cleansing formula like a milk or a foam for the second step."
If your makeup is heavy, she suggests using a cleansing oil first (or dedicated lip and eye remover) for the first step and following with a regular cleanser.
This will ensure your skin is not only completely clean and ready for your favourite serum and/or moisturiser but Valentina explains it is also an important for removing the build up from environmental factors.
"The UK has a milder climate than many Asian countries, however if you are spending time in the city; dust, vehicle fumes and the like will still have an effect on your skin".
With brands now focusing on developing longer-lasting makeup products too, Valentina says this means cleansing is even more important.
If you're wondering whether double cleansing is suitable for your skin, you're in luck, double cleansing is good for all skin types, "especially if you have oily or dry skin," as it assists in balancing the natural oils.
A proper cleansing step in your routine will lead to perfectly balanced, happy skin.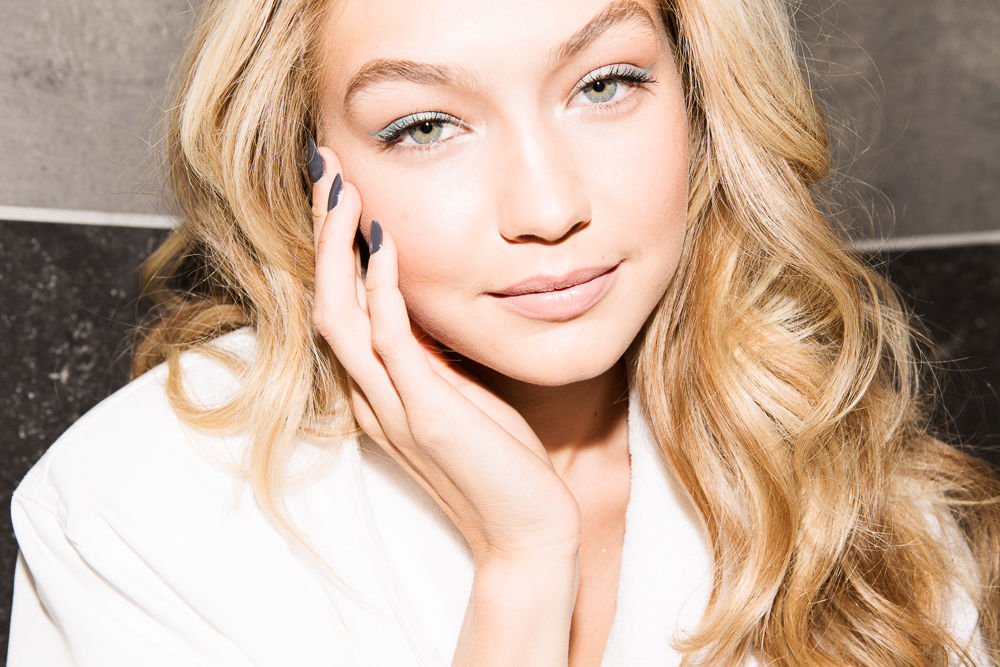 Collagen is that precious stuff that makes up approximately one-third of our body's protein. It is responsible for boosting the elasticity in our skin, which is what keeps us looking supple and plump. Not only does collagen keep our skin looking healthy, it also offers incredible joint and gut-health benefits too. Unfortunately, collagen production declines as we age, which is why we start to develop fine-lines, wrinkles and sagging skin.
It's safe to say that we want to preserve our natural collagen production at all costs, and also boost it as best we can, because let's be real, who doesn't want to give their skin a hand in stopping sagging skin? But the question is how to boost collagen production without wasting your time (and money) on products and clinical procedures that just don't work.
Regular Sessions of 6D Laser
This is the gold standard procedure to boost your skin's natural levels of collagen, in a safe and effective way. After just one treatment, the body kickstarts its production of the Good Stuff and there is an immediate glow to the skin. But the benefits don't just stop there! Unlike many treatments, the 6D Laser does not stop working after you have left the aesthetician's office. Over the coming 2-3 weeks, the skin's elasticity and levels of collagen continue to improve, resulting in beautifully soft and supple skin. It's recommend to have up to 4 sessions in a year for maximum glow!
Facial Massage
Facial massage is one of the best known tricks to helping our body's natural production of collagen. Stimulating our facial muscles through facial massage will help to oxygenise our skin, increasing the blood flow to our face. Blood flow is essential for the collagen production process, so the more you focus on facial massage the more collagen your facial skin is going to produce!
Collagen Boosting Foods
Research has found that some foods that are high in antioxidants can really help boost collagen production. Get these foods into your diet regularly to start surging your body with extra collagen, or prevent your body from collagen breakdown!
Fish – high in omega-3 fatty acids, fish will help ease inflammation in your body. Since inflammation can promote collagen breakdown, fish is the perfect way to counteract this.
Bone broth – While most food contain antioxidants to help produce collagen, bone broth actually contains a form of collagen that our bodies can use straight away. This is highly recommended for collagen production from experts.
Berries – They're high in vitamin C, which is known to bring certain amino acids together, which essentially creates collagen formation.
Collagen Supplements
Collagen or collagen promoting vitamins or ingredients can also be ingested via supplement form. Supplements containing omega-3, vitamin C, or just plain collagen supplements in tablet or powder form will help the production of collagen in your body, even if you aren't getting the correct source of proteins through your diet.
Red Light Therapy
LED light therapy is a form of phototherapy, used to increase blood flow, which as we know is key to stimulating collagen production. Frequent and consistent use of Red Light Therapy is a great way to boost your skin's natural collagen production.