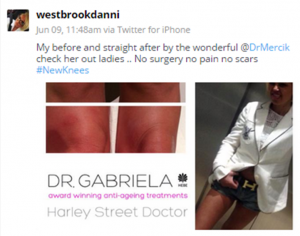 Do you have wrinkled knees or sagging knees? Well take comfort from the fact you're not alone!
Past the age of 40 most people find their knees start to droop. There are several reasons for this:
The collagen beneath our skin that gives it a firm springy texture breaks down as we age so skin starts to sag.
The extra skin that allows us to stretch and bend our legs becomes dry, cracked and wrinkled.
The force of gravity above the knees creates an extra pull emphasising wrinkles.
But before you go on a maxi-skirt-buying-spree, there is a solution!
New BeautyLift™ Legs is a threadlift procedure that smooths and lifts the knees without surgery, pain or downtime.
BeautyLift™ Legs involves the application of PDO threads in the skin directly above the knee via a series of small injections. The threads create a mesh in the skin and deliver an immediate lift and wrinkle-smoothing effect that increases over time as collagen is produced.
The treatment takes just 1 hour with no downtime aside from a small amount of residual bruising. Results are immediate and progressive, peaking at around 8 months after the procedure and lasting for up to 3 years.
To find out more about BeautyLift™ Legs click here
Of course BeautyLift™ Legs isn't your only route to younger looking knees. If you are really serious about improving their appearance get into the habit of using a good quality moisturiser every day. My choice – Dr Gabriela MoonlightDust Magic Rain and H+R Hand Cream.
These incredible products are the first and only to contain molecular water – a ground-breaking ingredient that is set to change the way we treat ageing skin.
Molecular water is the only skincare ingredient small enough to penetrate inside your skin cells. Once inside it speeds up cellular renewal and promotes collagen production. What that means for your knees, hands, elbows – or any other areas of dry, wrinkled skin – is complete rejuvenation and huge improvements in texture and tone.
For maximum knee-softening results apply MoonlightDust Magic Rain before H+R Hand Cream – not only will you have to use less cream but you'll get double the rejuvenating effect!