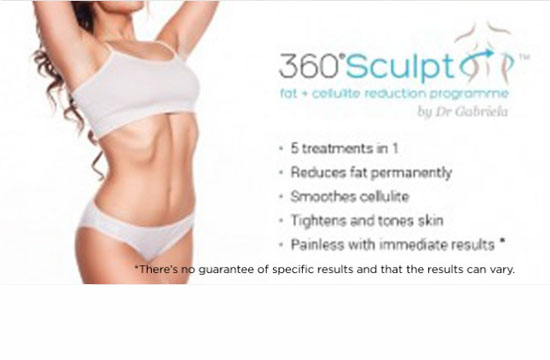 Introducing 360Sculpt from Dr Gabriela
360˚Sculpt is one of the most advanced treatments of its type in the fight against cellulite and fat. It streamlines your body without surgery and the results are visible after just one session.
'360Sculpt is the only laser lipo treatment on the market that brings together 4 of the most powerful fat-busting technologies –
crylopolysis
ultrasound cavitation
endermologie
and radio frequency skin tightening
in a single 2 hour treatment,' says Dr Gabriela.
'The technologies permanently destroy fat cells, assist the body in expelling the fat and strengthen and thicken the skin. What that means for you is a significant reduction in love handles, muffin tops, flabby thighs, back fat and chicken wings without surgery or downtime and in most cases one treatment is all that's needed.'
To book 360Sculpt with Dr Gabriela call 0845 303 1155
To find out more about 360Sculpt click here