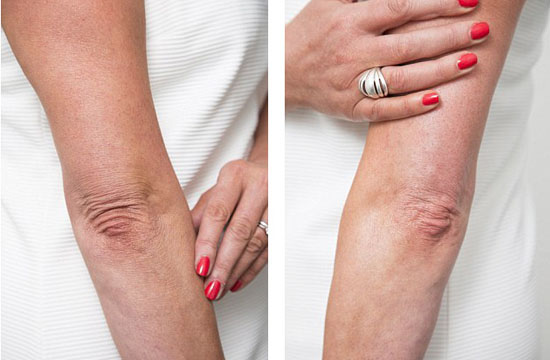 My patients are increasingly concerned with areas of their body that give away their age such as their neck and décolletage, knees and elbows. In response I created what I call "The Little Black Dress Treatment" which tackles all 3.'
Post the age of 40 the excitement of shopping for a new party or cocktail dresses starts to lose its appeal. Whether it's sagging arms, wrinkly knees or crepey décolletage, most of us have an area or two we'd rather keep under wraps.
But there is a solution. NEW BeautyLift Little Black Dress is an exciting new PDO thread lift treatment package from Dr Gabriela that tightens and tones up to four areas of the body commonly exposed when wearing a party dress such as the elbows, knees, neck and décolletage.
The PDO threads form a supportive mesh under the skin, delivering an immediate tightening and smoothing effect while also prompting the skin to produce collagen and elastin – the building blocks of youthful skin. The treatment is painless with minimal downtime and the results last for up to 3 years.
Photos Credit: Daily Mail
Book Dr Gabriela's Little Black Dress package today and feel your confident best by Christmas. Call us on 0845 2303 1155.