An award winning beauty blogger, author, Sky TV presenter and founder of the #safetyinbeauty campaign, Antonia Mariconda the Cosmedic Coach, is an authority on all things beauty, so we were thrilled when she popped into the Aesthetics Lab to try Dr Gabriela's new radiance-boosting facial MoonlightDust.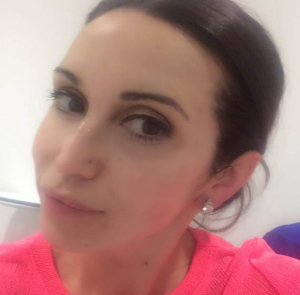 So what's so special about MoonlightDust?
MoonlightDust is the first and only facial to harness the skin-rejuvenating powers of molecular water. It delivers the same instant brightening effects you'd expect from a microdermabrasion treatment, hydrafacial treatment or chemical peel without the burn and promotes long term rejuvenation.
What is molecular water?
It's regular water broken down into micro-molecules of water, so small they are able to penetrate the protective wall that surrounds your skin cells (which ordinary water can't do). Once inside the skin cells the molecular water promotes blood flow to the area. Blood contains growth factors – communicating cells that stimulate cell renewal and collagen and elastin production – the proteins that make it firm and smooth. So in a nutshell by stimulating blood flow with molecular water growth factors are drawn to the area of skin and the renewal cycle begins.
So will I look 10 years younger?
We can't promise that, but if you invest in regular MoonlightDust facials you will see a gradual reduction in fine lines, hyperpigmentation, pore size and thread veins all without the side effects including redness and peeling you get from most resurfacing treatments.*
Call 0845 303 1155 to book MoonlightDust at the Aesthetics Lab or Hebe Clinic.
*There's no guarantee of specific results and that the results can vary.