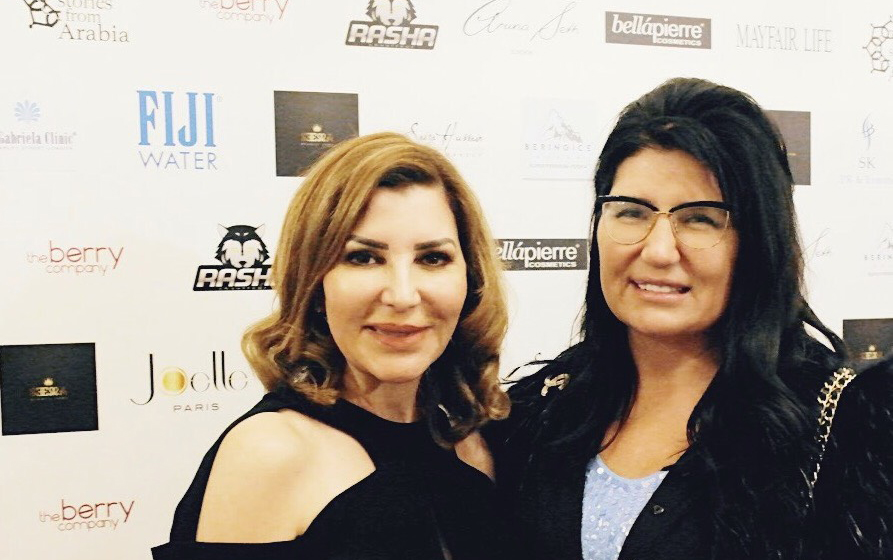 Dr. Gabriela Clinic proudly sponsored the Stories from Arabia Fashion Show that took place at the Grand Connaught Rooms on 19 Feb as a part of London Fashion Week. While the intricate Arabian designs took centre stage and the crowds were flowing through the grand purple-lit hall, Dr. Gabriela goodie bags were perched on every front row seat waiting for their VIP guests to take them home.
Dr Gabriela Mercik with her friend and PR for the event Selwa Kazwini catching up after the fashion show.
In the hours leading up to the show, our team set up shop at the Press Meet on the Penthouse suite where many stylists and beauty bloggers stopped by to try out our timeless products and get expert guidance on their beauty concerns. We got them acquainted with our unique molecular skincare brand and on their first try simply loved our Hydration & Rejuvenation hand cream – one of our most popular products!
The people couldn't resist the immediately velvet touch of their skin and went on to show much love on their social media!
Stories from Arabia is a fashion platform of elite designers from the Arab world founded by London-based entrepreneur, Jalila Elmastouki, to showcase and revive the craftsmanship of traditional embroideries from the Middle East and North Africa merged with a western touch . We were truly happy to be a part of their breathtaking show as a friend and sponsor.